A Firefighter T-shirt Speaks Louder Than a Thousand Words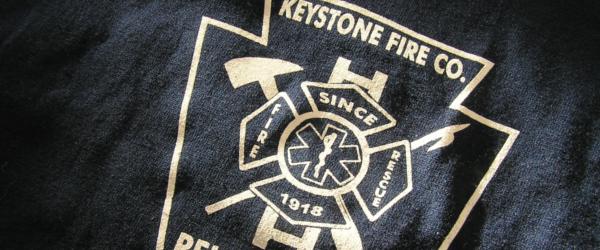 It is a widespread preconception that Americans are superficial. But a small package from Pennsylvania proves otherwise.
I had already mentioned in my 2010 year-end retrospective that I really enjoyed making so many new contacts at all the various events. These were not only events that took place in Germany, but also internationally. So it makes me all the more happy to stay in touch with some of those people via e-mail or facebook and to talk to them about specific firefighter topics.
For example, I met EJR (Eric J. Rickenbach) at the Weber Rescue Days. He is with the Keystone Fire Company in Rehresburg in the U.S. He is also an instructor for Technical Rescues and Accidents with Farming Vehicles. Whenever I have questions regarding the U.S. firefighter system or certain tactics, I can talk to EJR, and he can explain it to me as an expert.
So I was really excited to receive a package from Rehresburg early last week. At first I had no clue who was sending me this package. But when I opened it up, it suddenly became clear. EJR had sent me an original firefighter t-shirt from his station. Just because. I was speechless. After all, I had really only talked to him for about 30 minutes at Rescue Days and have really not done anything earth-shattering yet, either. Still, he sent a firefighter shirt to Germany, which is not exactly inexpensive, either. But an act like this precisely exemplifies a positive side-effect of our hobby. The whole world is full of people who think the same way we do. And after a simple conversation, you suddenly have made a new acquaintance. So, I'd like to take this opportunity to sincerely thank EJR for the firefighter t-shirt from Rehresburg, and I will be sending him a t-shirt across the big pond soon, too.
I strongly recommend that you guys take part in nationwide lectures, seminars or training events. If you approach the people who are there in an open-minded way, it will only benefit you. If you want to learn more about EJR's fire department, go to the Keystone Fire Company's website. Due to his job as an instructor, EJR also has his own website, where he writes about his focal topics. Just go to www.rescuetechs.com.
What about you guys? Have you met any international firefighters at events?
Tags: firefighter, shirt