Dachau Fire Department – Thanks for Some Awesome Times!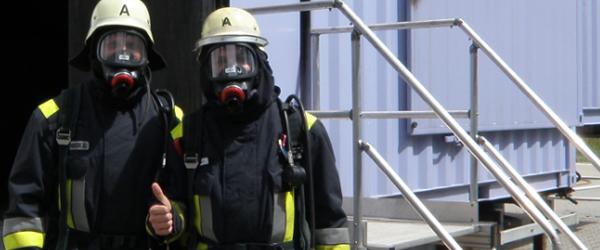 About three and a half years ago, I left the Munich Downtown Fire Department for the Dachau Volunteer Fire Department. Now that I am once again Allgaeu-bound and have to therefore also leave the Dachau VFD, it's time to take a look back at the last few years.
Whenever you start something new, you usually do it with mixed feelings. That's how I felt when I left the Munich VFD to go to Dachau, and the same goes for my leaving Dachau again. The last couple of years here have just been really awesome. Especially in areas that are very important to me personally, I have learned a lot and gained some valuable experience. So I would like to now talk about three highlights from the last few years that I particularly liked at the Dachau Fire Department.
A Broad Range of Incidents
Versatile and interesting incidents at a fire department are important to me. Why? For one, you gain a lot of experience this way, and also, I would like to put this knowledge to good use. Dachau is a good place to do that. With its close to 40,000 inhabitants, Dachau is the county's biggest city. And the A8 Highway (from Munich to Stuttgart), as well as the commuter railway system and the ICE (high-speed trains) created new operation ranges that I'd never experienced like this before. And not to mention that my apartment was close to the fire department, so I was usually on the first aparatus that rolled out. Before, I had been with fire departments where I was part of the second or third wave, so working in Dachau was a totally different experience. I'm sure this made me a lot calmer and helped me develop a routine when operating on incidents. Additionally, with support from the UG-ÖEL (Incident Commander Support Team), I was able to participate in all the county's larger incidents, which allowed me to watch interesting scenarios from a mission control perspective. Gathering all the mission pictures helps you realize all the things you've experienced. These pictures can be found on the county-wide fire service website, a site I will continue to follow to see what's been going on in my former county.
Equipment and Turnout Gear

These are also two subjects that are very important to me and carry great significance at the Dachau Fire Department. One thing I really like is that people there are always thinking about how things can be improved and developed further. For example, while purchasing replacements, shorter and lighter turnout jackets were chosen, not the jackets from 10 years ago. The turnout pants were upgraded with Kevlar protectors and the interior firefighters were equipped with endless slings. Even the equipment on the apparatus was consistently further developed, whether it was hoses in signal color, special hose baskets, Stab-Fast systems, a new thermal imaging camera or LED technology blue lights.
Training
I had never experienced such a level of hands-on training as I did in Dachau. With regards to interior firefighting, I was at Feurex twice for two whole days for fire and nozzle training, twice in a gas-fired container and once in a wood-fired container. This constant training helps you approach interior attacks in a much more relaxed manner. The experience in the containers has also changed my personal approach. There was also some interesting on-site training, such as for fall protection, which lasted several days, or presentations given by fire investigators, rescue pilots or the insurance department. Also, I was allowed to participate in the team leader and UG-ÖEL seminar at the Geretsried State Fire School, which really taught me a lot.
There are many other things I really liked, such as life in and around the fire station or the pleasant relationship with the district office, etc.
In conclusion, I would like to thank all my buddies for a great experience during practices, training, and missions and, of course, also "my" teams, the UG-ÖEL and the SCBA training team. Both helped me learn a lot of new and interesting things and gave me the opportunity to try many new things.
I wish all my buddies in Dachau all the best and look forward to seeing you all again some time.
Some memories of my incidents in Dachau